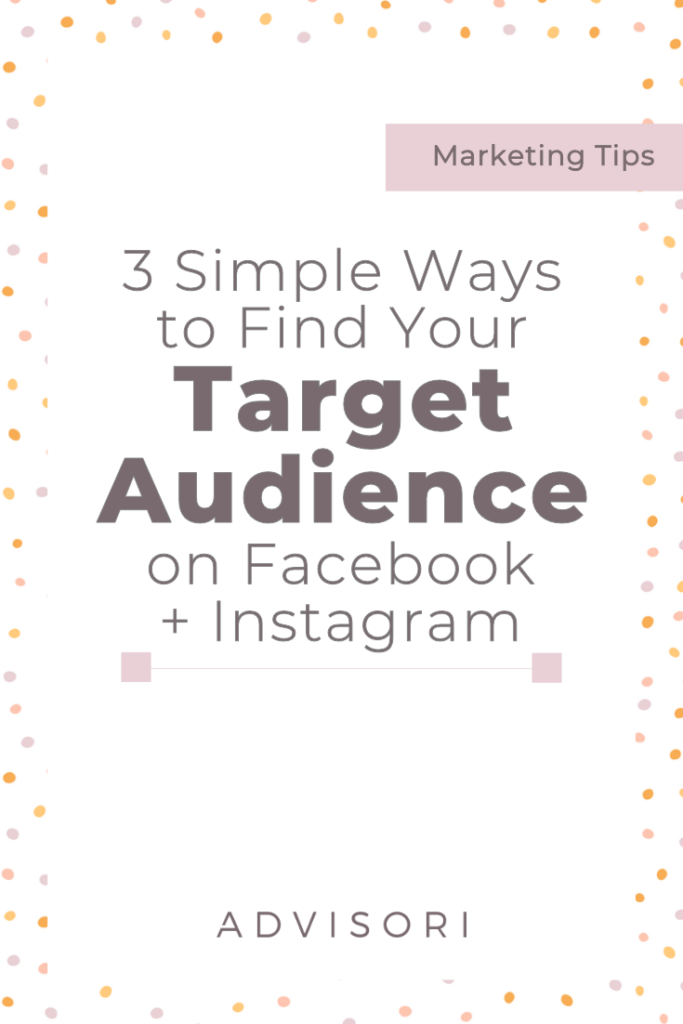 Today, I wanted to talk about the 3 Simple Ways to Find your Target Audience on Facebook and Instagram. I have had a lot of questions around targeting an audience on social media and how to go about doing that so I wanted to touch base on that today.
Let's go over the basics of Targeting. There are three different ways that you can find your target audience on social media: behaviors and interests, look-a-like audiences, and customized audiences.
When you are first starting, especially if you don't have a following or an email list, you are going to need to start with behavior and interest targeting. This means that you will be choosing everything from gender, educational level, marital status, financial status, amount of children, etc.
Once you have figured out the demographic of your target audience, then you will move on to the behaviors and interests. These could be anything from a person's job title to the recent searches that they made. For example, if someone is recently been focusing on advertising then you could target that.
When you are targeting these, it can be really easy to get a really gigantic audience or a really specific audience. You will want to keep an eye on Facebook's meter to tell you if your audience is the right size. And while there in no "correct" audience size, you will need to test, test, test to see what works best for you and your business!
Once you have done the behaviors and interests and your ads are generating traffic to your website or sign ups to your email lists then you can move on to a look-a-like audience. A look-a-like audience is based on an audience that you have already built. In order to do this, you NEED to have your Facebook Pixel in place on your website.
OK, back to look-a-like audiences, these audiences take a group of people that you already have and then Facebook will find people who are similar to those. To have an effective audience, you will need to have a large audience to base the audience off of. If you are just getting started and your audience is pretty small, then you should hold off on running any look-a-like audiences. A good rule of thumb is to have at least 100 people in your audience before creating a look-a-like audience.
Finally, a custom audience is when you use first-party data to create custom audiences. These would be your warm audiences who have already said they are interested in you or your business. This could be uploading your email list and targeting that list through Facebook and Instagram Ads. These ads are really important to stay front-of-mind with your warm audiences because they will be much easier to convert into sales than a cold audience.
You can create custom audiences off of a wide variety of actions, for example: people who have purchased from you before (but not recently), people who have taken specific actions of your website, or maybe people who are on your email list.
One question that I often get is: Should I be using the behavior and interest targeting or should I be using look-a-like audiences? And the answer is BOTH! Everything about marketing is testing and trying to determine what works best for you and your business so by using both, you will be able to see what has the highest ROI for your business. And determine what the best target audience is. Start with three different ad sets at $5 per day to try these out.
Feeling a little overwhelmed about Targeting or just advertising in general? Wish you had more traffic, leads or sales? Then it is time we chatted. Book a introductory call with our team here!