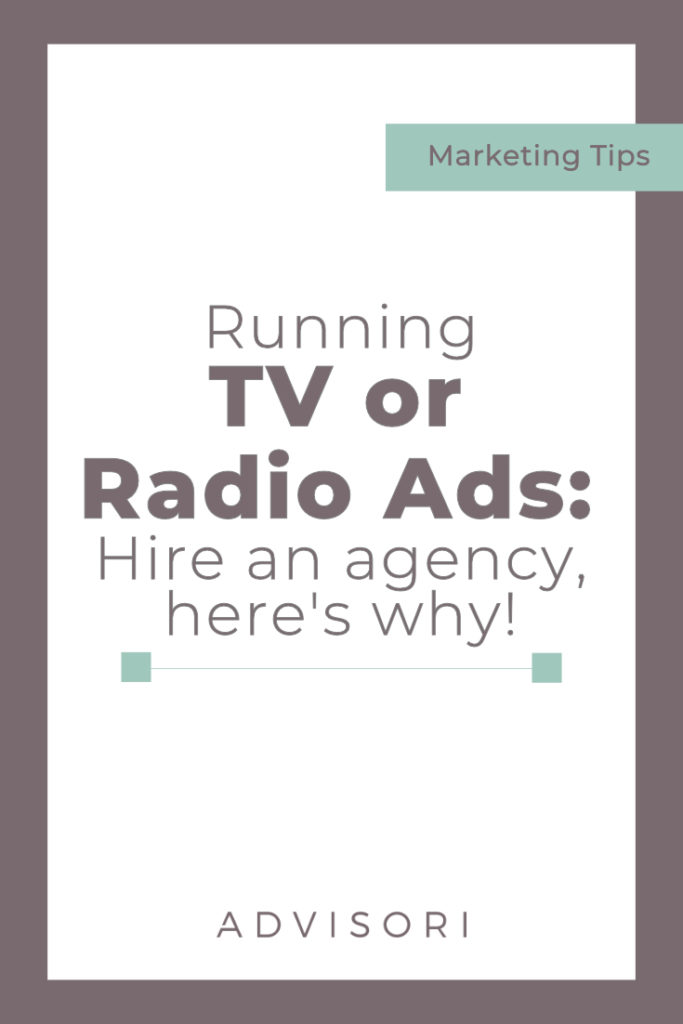 Does the thought of running TV or radio ads seem like it is out of reach for your business? Maybe you have no idea how to begin, or maybe you think it might be too costly. That doesn't have to be the case, especially if you are working with an advertising agency, like Advisori. Below we will go over the three reasons why working with an advertising agency on your TV or Radio Ads can be a huge benefit!
If you have more questions after reading this, checking out our Work with Us page and book a free strategy call with me and my team or grab a copy of our Marketing Plan Template.
Reason #1
The first major reason you should consider using an advertising agency, if you're going to be running TV or radio ads for your business, is that it usually doesn't cost you anything. Seriously, it doesn't have to cost you anything!
How could this even be possible? The agency typically already works with numerous TV and radio stations and due to the volume, they are given a discount. That discount is how you end up paying the advertising agency. That means that you get all of the expertise, and the agency does all the heavy lifting, and it doesn't cost you anything more than if you would go directly to the TV or radio station.
Reason #2
The second major reason is that when an agency has multiple clients, they are able to see what other businesses are paying for advertising. Being able to see these numbers will help to make sure that you are paying a fair price for advertising. A price that is in line with industry standards. Unfortunately, we have seen it over and over again, that a business is being way overcharged for what they are getting simply because they don't know what is a fair price to pay.
By working with an agency, like Advisori, you know that you are getting the most for your money!
Reason #3
Even if you are able to negotiate a fair price on your own, how can you be sure that your ads are showing up at the right place and the right time in order to reach your target audience? If you aren't reaching your target audience, then your ads aren't going to do any good. Working with an agency who has experience in ad placement can be a game changer. It can get your ad seen and heard by the right people – giving you the results that you want!
If you're interested in learning how Advisori can help you with your TV or radio ads, I would love for you to go to our work with us page and book a free strategy session.
The strategy session does not cost you anything and you're not obligated to take action with us. We will simply get to know you and your business goals a bit better to see if we could be a good fit. Head here now to book a session or grab a copy of our Marketing Plan Template.