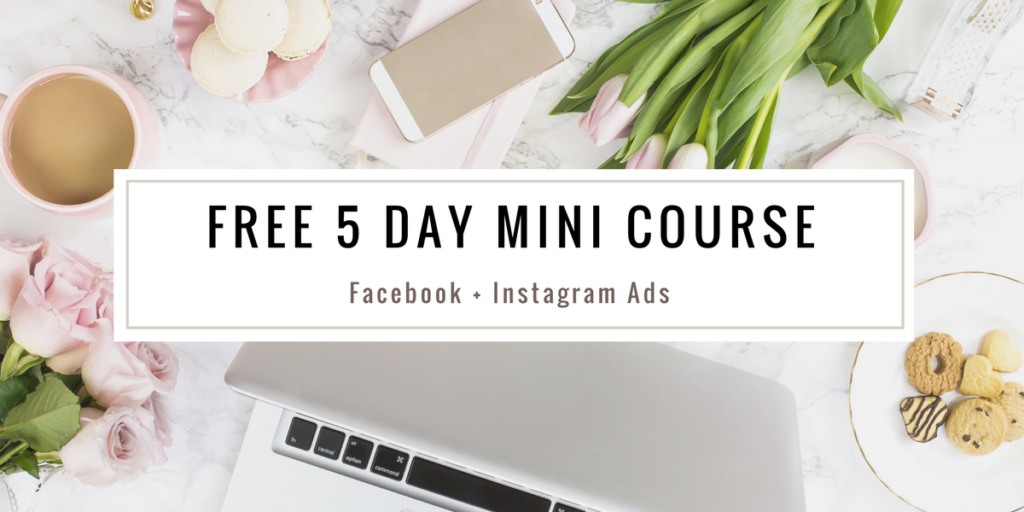 Well you guys, it is finally here!!
I am super excited to announce that we'll be hosting a FREE 5 day mini course on Facebook + Instagram advertising starting May 1st and you're invited! This has been a long-time coming, and I am beyond thrilled to be sharing it with you.
You can find all the details about the mini course and sign-up here!
We'll be covering:
What is actually happening when you boost a post, and why it probably isn't helping you reach your goals.
Walk through marketing 101, what a marketing sales funnel is, and how it applies to Facebook + Instagram ads.
Campaign structure, including ad sets and ads + how to choose the right ad based on your objective.
Go through through the difference between Ads Manager + Power Editor and how to set-up your first campaign in Ads Manager.
Like I said, you can find all the details and sign-up here!
This is near and dear to my heart because this has been something I've been dreaming up for over a year. Advertising, or as I like to say "investing in your business", can be scary, but we can't rely on growing a business through posting on social media anymore. It is our responsibility to find our customers, not their responsibility to find us.
Facebook + Instagram ads is a tool that every business owner + marketer has easy access to, and it can really facilitate growth, help you reach your goals, and make a big impact on your business!
I hope you'll join me May 1st!
Yes, I can't wait for the mini course – sign me up!
Disclaimer: This training is not affiliated with or endorsed by Facebook.